M7.1 earthquake, off the east coast of the North Island. Friday, March 5 2021 at 02:27 am
A deep, strong quake that was felt across much of New Zealand. Sentinel directly measured ground shaking across our networks in East Coast, Bay of Plenty, Hawkes Bay, Kapiti-Wairarapa, Wellington, Nelson-Marlborough, Kaikoura and Canterbury. To date it is the largest single earthquake captured by Sentinel in terms of sensors, buildings and areas.
Despite being widely felt, shaking intensity did not exceed moderate in any place. But the shaking was long and slow – combined with the time of the event this led to a greater perception of strength by many people. This is typical for larger more distant earthquakes.
Gisborne and the North Island East Coast
Moderate shaking across Gisborne and the North Island East Coast. Generally felt outside and by almost everyone indoors. Most sleepers were awakened, and a few people alarmed. Small objects were shifted or overturned, and pictures knock against the wall. Some glassware and crockery may have broken.
Hawkes Bay, Bay of Plenty, Wairarapa, and Wellington
Light shaking felt across Hawkes Bay, Bay of Plenty, Wairarapa, and Wellington Highly variable by area, especially in Wellington. Generally noticed indoors, but not outside, as a moderate vibration or jolt. Light sleepers may have been awakened. Walls may have creaked, and glassware, crockery, doors or windows may have rattled.
Hawkes Bay, Bay of Plenty, Wairarapa, and Wellington
Weak shaking across most of the rest of the country. Felt indoors as a light vibration. Hanging objects may have been seen swinging slightly.
Shaking across the Wellington region
Pockets of very weak, weak and light shaking. CBD, Wainuiomata and Featherston experienced the strongest shaking.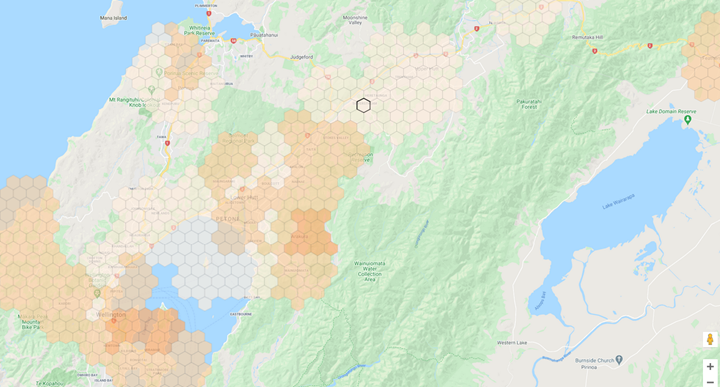 Detail of the Wellington CBD
Light shaking across the eastern CBD, Mt Victoria and Miramar, weaker elsewhere. Stronger shaking on the hills relative to the softer soil areas. Occupants of taller buildings would have felt the long, slow shaking much more strongly, as the building sways back and forth. Felt by most people, animals alarmed. Walking steadily is difficult. Furniture and appliances may have moved on smooth surfaces, and objects seen falling from walls and shelves. Glassware and crockery may be broken as well.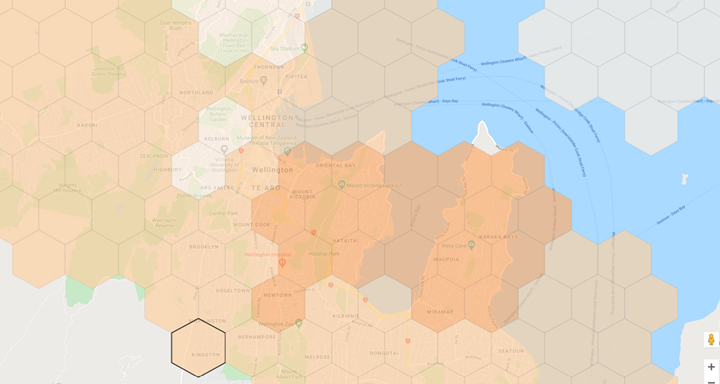 Effect on buildings
RED: shaking has exceeded building design strength. Possible structural damage. Evacuate building and arrange detailed engineering inspection
AMBER: shaking has exceeded building serviceability limit. Possible non-structural damage, for example fallen ceiling tiles, broken windows and cracked plaster. Evacuate building, visual inspection for damage before re-entry. Isolate areas and arrange for repairs if necessary
WHITE: shaking within design limits. Damage unlikely, carry on as normal unless obvious visible concerns
Shaking in Gisborne relative to 100% NBS
Despite the wide area of felt shaking, the effect relative to buildings was limited. All areas of the country did not exceed WHITE, with the exception of some areas on the East Coast of the North Island.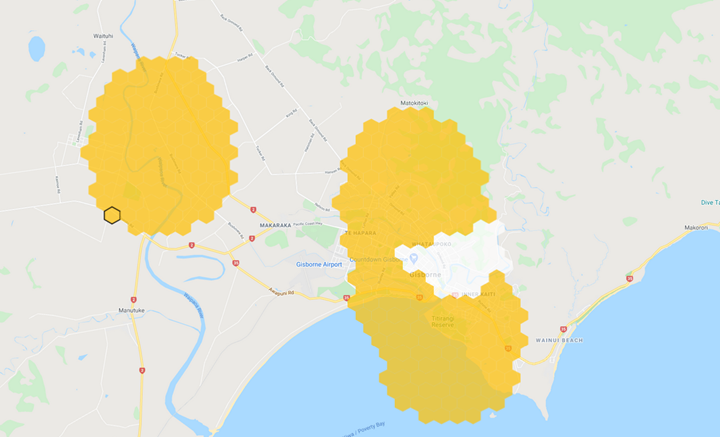 Want to know more?
Only actual ground shaking measurement at or very near your building provides reliable information. Do you have a building in one of the high-risk areas? Have you had it checked? Are you providing adequate protection and reassurance for your people?
Sentinel users had this information within seconds of the end of the earthquake. Sentinel is the technology that ensures you make the right call following an event, equipping you with the information specific to your building when you really need it, in whatever format you need. See more at sentinel.net.nz.