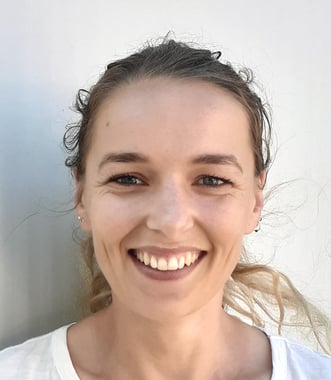 We're excited to welcome a new team member on board here at Sentinel - our new Sales Representative, Jacqui Moorfield. Jacqui joined us on March 2, and she comes to us from - most recently - SOMO Creative and Make Collective. But that's not the half of Jacqui's story!
With an interesting and varied background, Jacqui brings a diverse range of experience to the table. She's originally from Christchurch, but in 2009, her talent and abilities as a hockey player won her a scholarship to Boston College in the US. "That was a really challenging experience," Jacqui recalls. "I loved Boston and the college, and the hockey was amazing, but it was pretty full on. Tough, but also really rewarding."
After graduating with a degree in Psychology, Jacqui returned to New Zealand in 2013, where she worked in various sales and marketing positions, particularly in the tourism industry. Like most Cantabrians, Jacqui has first-hand experience of living through and managing the Canterbury earthquakes, which are particularly personal to her.
"My hockey mentor and good friend - a really inspirational woman - died in the Pyne Gould Guinness building during the February quake," she says. "I think of her all the time when earthquake management is discussed. I didn't go through the September or February events, but every aftershock I've experienced, I've thought of her. But it was also amazing how Christchurch pulled together after the February event - made me very proud to be a Cantabrian."
In 2016, hockey called Jacqui again, and she spent a year in Belgium playing professionally. "I got a contract to play for a club over there," she recalls. "I only played one season, but the league is pretty good, and it was a great way to do some travelling and see Europe."
Returning to Christchurch in 2017, Jacqui held positions at Make and SOMO. Recently, she evaluated her position in life and decided to go in a new direction. She'll be combining her role as Sales Representative at Sentinel with her studies for a Masters in Applied Industrial Psychology at the University of Canterbury - so she's going to be very busy!
"What Sentinel is doing is really cool," she says. "I think it's a very important tool for business and building owners to be aware of. It's a fantastic initiative, and the technology these guys have created is incredible. I'm really thrilled to be involved with it."
Jacqui reports directly to General Manager Len Damiano, and her focus is the management of new Sentinel leads and initial sales conversions.
"I'm a Christchurch person," she says. "So coming on board with Sentinel has a personal touch for me. This is a solution that's going to really help people in the future, and I'm very proud to be a part of it."
Get in touch with Jacqui:
E: jacqui.moorfield@sentinel.net.nz / jacqui.moorfield@csi.net.nz
P: +64 22 044 1061