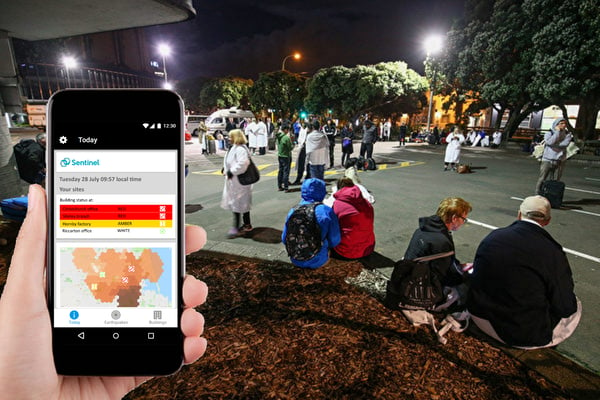 Earthquakes are a fact of life in New Zealand; they will happen again. Christchurch in particular has a history of damaging earthquakes – and not just since 2010. Since 1840, large earthquakes have shaken Christchurch about once every 10 years.
Four have caused widespread significant damage to the city (1869, 1888, 1901 and 1922). After a long quiet period, the earthquakes of 2010-11 should not have been a surprise. The effect on our city was devastating:
185 deaths
Over $50B in material damage loss
Serious impact on over 20,000 organisations
At least $1B uninsured business disruption loss
Over 200,000 people displaced from their workplace or home
Outcomes like this are unacceptable. They're also preventable. It comes down to the need for business owners to make smart, fast decisions about their people and property. Current rules of thumb based on earthquake magnitude and distance don't work. Traditional science-focused, highly technical data is not valid for making immediate, critical decisions and cannot measure real-life shaking variation between different buildings across a city.
In response to the lessons of the Christchurch, Kaikoura and Seddon earthquakes, Canterbury Seismic Instruments (CSI) is launching Sentinel, a global first for urban earthquake effects management.
Sentinel delivers Earthquake Response and Resilience as a service with best-practice Health and Safety, eliminating unnecessary business closures and accelerating economic recovery. The unique end-to-end service measures shaking at every building, delivering you the right information at the right time to make the right decision.
Unlike the currently available measures such as Mercalli Scale, or peak ground acceleration, our new approach relates the shaking acceleration (its intensity) and its frequency (how rapid the shaking is), to how the structure behaves. Sentinel's Ground Response Spectrum is easily related to building design strength in ways other measurements cannot.
Based on the expected size of large earthquakes, the NZ Building Code defines limit state curves of shaking intensity vs. frequency. For every individual building, the limit curves are adjusted based on soil type, building importance level and percentage of code. Sentinel directly measures ground shaking at hundreds of points, either in your building or very close by. By comparing the ground response spectrum under your building to the design limits of your building, Sentinel understands instantly whether your building is likely to be damaged – in seconds!
Sentinel puts you in the picture with immediate alerts to your phone, laptop or other systems. Results are sent immediately to the building occupants, the building manager and the structural engineer.
If you're responsible for your people's safety and your organisation's continuity, Sentinel will provide you with the information specific to your building when you really need it, in whatever format you need.
Existing Sentinel customers are spread across New Zealand, protecting more than 150 buildings and 100,000 people. Sentinel's subscription service covers all of New Zealand. No installation. No maintenance. No building owner permission. No hassle. No up-front cost. No delay. Available now.
Know your business priorities. Know your family and home are safe.