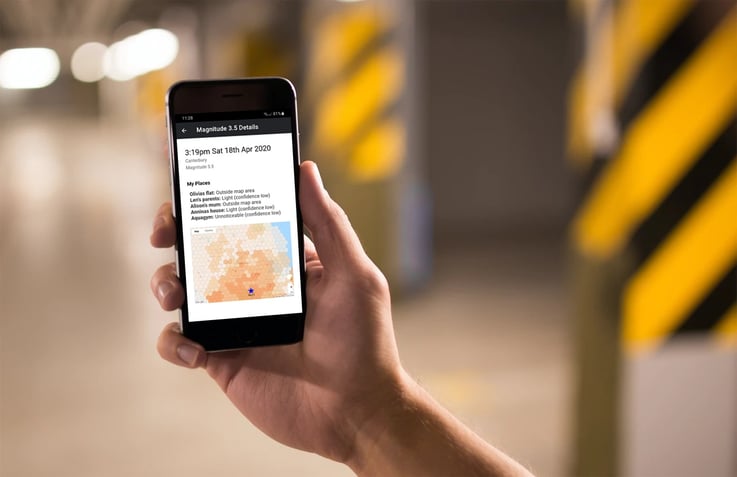 The Covid-19 era is still with us, but we're out and about more now. As we become more mobile and return to our office spaces, we need digital solutions that can keep pace, especially when it comes to the safety of our buildings and the continuity of our businesses. The landscape for Kiwi business and building owners has changed significantly, and we've been reminded just how important it is to have the tools and technology in place to minimise business interruptions. Planning ahead is what enables businesses to remain operational future earthquakes.
In response to this, we've developed a mobile app for the Sentinel solution, which means business and building owners no longer need to be in front of a monitor to get instant earthquake alerts, ground-shaking and building information. Designed for both the Android and iOS platforms, business and building owners can now get real-time updates on their smartphones, no matter where they are.
Features of the new app include:
'My Places' - you can add up to five user locations, allowing you to instantly understand the effects an earthquake has had on your business, family and friends
Access to an instant summary display of current building status, plus technical details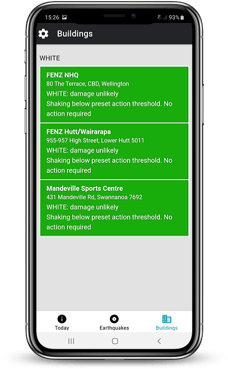 A view of per-earthquake ground-shaking intensity maps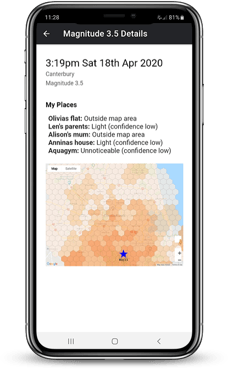 Push alerts in addition to email and SMS delivery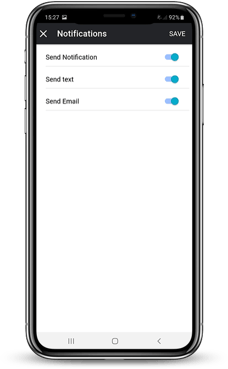 The ability to adjust earthquake notification settings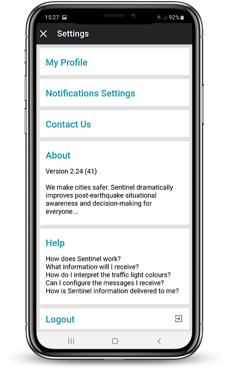 What this means is that Sentinel users now have greater flexibility and the ability to make instant decisions about building safety, no matter where they are. Information is instantly accessible, meaning that business owners are now even more empowered to ensure business continuity and the safety of their staff.
And in a special offer, for one month only, all existing Sentinel users can sign up to the app for free forever. After 17 June, access to the app will be an additional cost.
If you're already a Sentinel user:
Your username is your Sentinel registered email address, and the first time you use it you need to follow the instructions for 'forgot password'. A temporary login password will be sent to your email.
Once you've installed it and logged in, make sure you check that you're subscribed to the correct buildings. As always, we're on hand to offer support and assistance if you run into any trouble, so don't hesitate to get in touch.
Service updates enhance the Sentinel solution
The mobile app isn't the only new development; we've also pushed out some service updates that are part of our commitment to continual improvement. They include:
Earthquake start notification - this is an alert issued by Sentinel the instant an earthquake is detected. It lets you know that an earthquake is starting - possibly before you've even felt it! This update means you can be assured that Sentinel is working, while you wait for the earthquake to end (particularly so in large earthquakes).


Current building status - Sentinel now reflects all ground-shaking experienced by the building since the date it was added to Sentinel. This update provides a better picture of all shaking input to the building, not just the shaking of a particular event. So, in a damaging earthquake with a long succession of smaller aftershocks, the risk of important information being missed is eliminated, and there's significantly less information overload, meaning improved situational awareness and better decision making.
Sentinel is the technology that ensures you make the right call after an earthquake happens. It's what you need, when you need to be sure. Sign up now and see for yourself why over 150 buildings and 90,000 people in New Zealand choose Sentinel as their earthquake response and resilience tool.