New Zealand isn't called 'the shaky isles' for nothing. Earthquakes are a fact of life here; the past decade has seen significant seismic activity and the science tells us to expect more in the future. We can't prevent the quakes, but we can be prepared for them and with Sentinel, we have the technology to help us make smart, fast decisions after they've occurred.
Sentinel delivers Earthquake Response and Resilience as a service with best-practice Health and Safety, eliminating unnecessary business closures and accelerating economic recovery. The unique end-to-end service measures shaking at every building, delivering you the right information at the right time to make the right decision.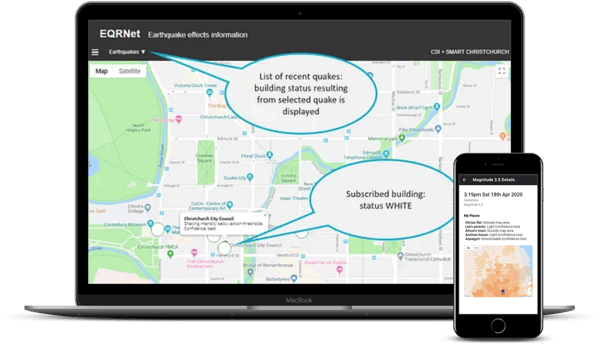 Sentinel puts you in the picture instantly with alerts to your phone, laptop or other systems. It directly measures ground shaking at hundreds of points. It then instantly compares the point-by-point shaking to every individual building's design limits using best-practice and well-proven spectral analysis techniques.
Sentinel is the right tool for any business that needs to better manage its exposure to earthquake risks, whether business interruption or material damage. For example:
Professional services – eliminate needless lost time and billable hours
Critical infrastructure – know with certainty you can maintain operations on your site
Property management – understand instantly where to prioritise your resources
If you're a business in the Wellington or Canterbury regions, you can now subscribe to Sentinel and receive the first month's service free. This offer applies to every new subscribed site, and includes:
Full Sentinel functionality
Access to the new Sentinel mobile app, which works on both Android and iOS smartphones
On-site training familiarisation
Hardware installation if applicable
Integration of Sentinel with your emergency response procedure
Minimum one earthquake test scenario
Unlimited technical support enquiries
Our free trial offer lets you learn about the Sentinel experience and how it can help you make smart, fast decisions about your building. Understand why over 150 buildings and 100,000 people in New Zealand choose Sentinel as their earthquake response and resilience tool. Subscription, is paid month by month with no fixed term and you can unsubscribe at any time
Currently this offer only applies to buildings in the Wellington and Canterbury regions, but if you're located in another area of New Zealand and you're keen to learn more, let us know and we'll contact you asap to discuss how we can add you to Sentinel.
If you're responsible for the safety of your people and your organisation's continuity, Sentinel will provide you with the information specific to your building when you really need it, in whatever format you need.